OUR BLOG
Is Canada heading for another snow-filled 'epic' winter on skis? Hard as it is to predict what the weather is going to be like this afternoon, let alone on the weekend, we wanted to give you a quick run-down of some of the expert (and less expert) long-range forecasts for this coming winter season…! Canada Last season was supreme.  La Niña was in force to deliver the best snow season for 20 years according to the old-time CMH heli skiing guides (and they should know - photos here) La Niña is back – according to NOAA's Climate Prediction Centre… "La Niña, which contributed to extreme weather around the globe during the first half of 2011, has re-emerged in the tropical Pacific Ocean and is forecast to gradually strengthen and continue into winter." Typically a La Niña winter leads to "wetter than normal conditions in the Pacific Northwest" The Canadian Farmers' Almanac are forecasting "unusually cold and stormy weather. For some parts of the country that means a frigid climate; while for others, its lots of rain and snow."  And for the interior – where the heli ski magic happens  "another active storm track over the Pacific Ocean will guide systems into southern and central British Columbia and western Alberta, giving them a wetter-than-normal winter." This viewpoint is shared with the Long Range Weather meteorologists who think that "The fall season will eventually turn wetter and cooler as La Niña starts strengthening. " The upcoming winter season is likely to bring above normal amounts of snow to the inland areas. "  Music to our heli skiing ears!
Brett Anderson at Accu Weather has a slightly different idea.  He is predicting a cold winter temperature wise – with the influx of Artic air masses – but because of the prominent cold temperatures, he is predicting a drier than normal winter in Western Canada, apart from a small area of Alberta which he thinks will get above average snowfalls. Europe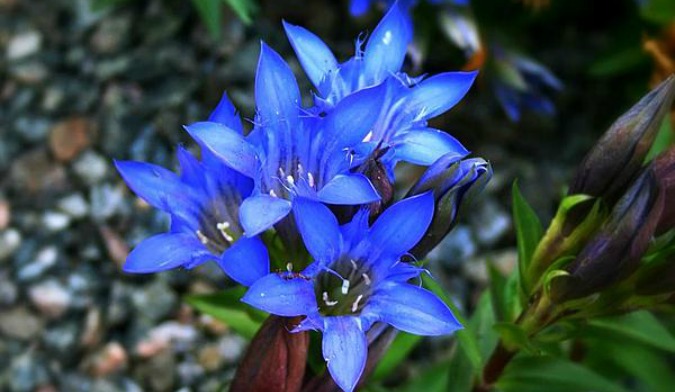 We've had reports from our friends who run the Hotel Edelweiss in La Grave that things are looGentainking up for skiing in Europe this coming winter…The Gentian plants have been high this summer, which, according to the locals, means that it is going to be a snowy winter! For a more scientific approach, La Chaine Meteo are predicting a "cold and long" winter in the French Alps, with longer cold and snowy episodes than last season. And for the UK… Exacta Weather suggests well below average temperatures this Winter. Long-range forecaster James Madden expects "the first signs of some moderate to heavy snowfalls as early as October or November in certain parts of the UK…with the heaviest snowfalls occurring within the time frame of November to January". "The UK will also begin to see the dire lag effects of the gulf stream shift couple this, especially if nothing improves soon. La Niña should also continue to establish its destruction further as expected, as the heavy snowfalls classes with the cold air. The UK and Ireland would be hit by ­prolonged periods of extreme cold and snow from the Arctic regions as cold easterlies or north-easterlies develop. This would result in the fourth bad winter in succession for the UK, and should prove to be the worst of them all." Although winter arrived early during 2010-11, don't be fooled when winter doesn't arrive by December 1st. It's definitely on its way… In the mood for skiing? Contact Pure Powder to find the best off piste and heli skiing adventures this Winter!