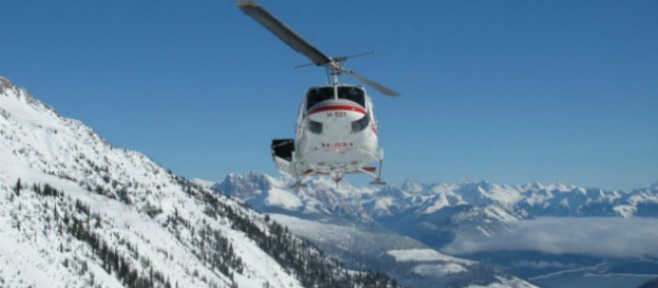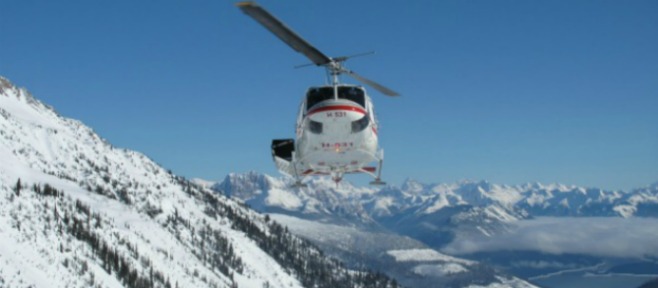 What happens when you take CMH Heli Skiing's Monashees heli ski area, which is world renowned for its steep tree skiing, and bathe it in glorious sunshine for a week?!  Answer:  you get to experience the (relatively) uncharted yet spectacular alpine heli skiing terrain above the tree line…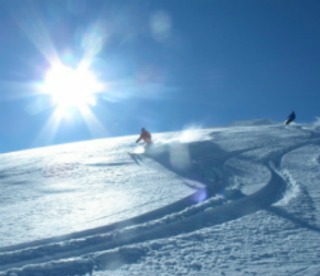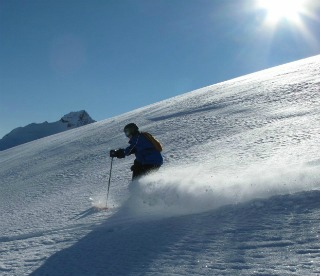 As Rooster the maintenance guy told me when we were chatting over the Monashee terrain maps "there's huge amounts of alpine skiing here – it just rarely gets skied.  Many of the other CMH areas would die to have the skiing we have up here".   Given the mythical allure of Soards Creek (home to endless classic, steep tree runs over 1,000 vertical metres), the alpine skiing in the Monashees is often over-looked.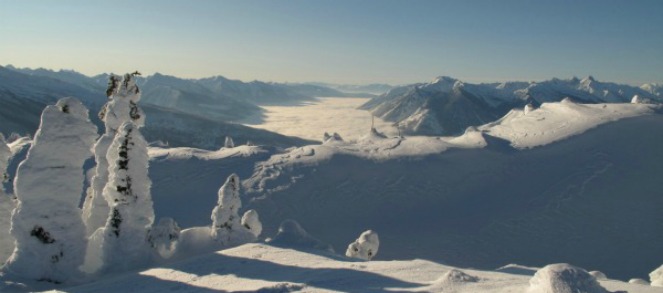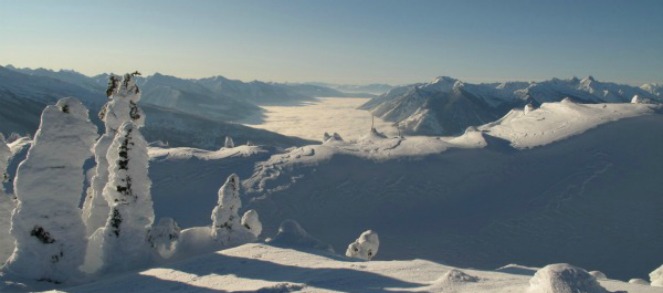 But for us the sun shone.  And every morning our incredible pilot Dave would somehow find a gap in the valley fog and punch a way through, thus transporting us to a heady selection of perfect powder just waiting to be skied.
Despite there being no fresh snow on our week the experienced guiding team led by the un-flappable Dean (who's been a heli ski guide with CMH for over 15 years) were able to sniff out the fresh tracks and the best snow.  This is where heli skiing really comes into its own; the helicopter enables you to get to places you otherwise couldn't dream of.  If the conditions don't look great over there – no problem, let's jump to a different elevation or aspect.  And the skiing, as it so often is in the British Columbia interior, was for the most part sensational.  Light 'hero' powder on the alpine mixed with deeper powder on the steeper pitches in the trees.
And after a hard days of skiing, what better place to re-charge the batteries than the Monashee Lodge itself. The newest addition to the CMH fleet, the Monashee lodge is a pretty impressive structure that sits on the edge of the Columbia River, with a viewpoint to some of the area's classic runs like 'Elevator' (a stone's throw away from the lodge).  And where better to plan the next day's heli skiing adventurers, but sitting in the open-air roof-top hot-tubs, with arguably one of the best views in North America…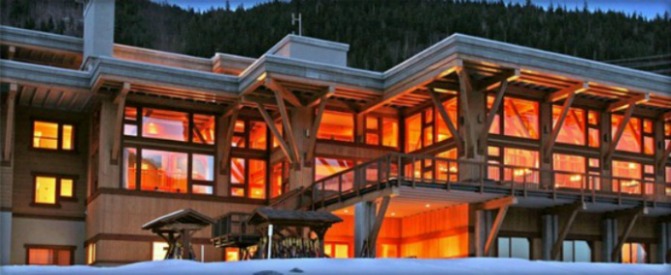 Tempted to plan your own trip to the Monashees and experience the steep tree skiing that it's famed for? Please contact the heli skiing experts at Pure Powder for more details.