People often ask what are the different types of skiing, so we put together a handy guide to explain everything you need to know. Downhill skiing (or alpine skiing) is definitely our preferred snow sport, whether it takes the form of heli skiing, off piste skiing or simply resort skiing. However it is not the only type of skiing out there. In a similar style to downhill (as in with the purpose of continuously going down slopes and not up) you can find monoboarding and telemarking. Next comes ski touring, which also has some familiarity as skiers are often venturing far off piste to find powder and untracked descents. Lastly there is cross country skiing, which shares some equipment similarities with touring and telemarking, but nothing with downhill skiing.
Monoboarding


Monoboarding is a curious sport that in recent years has gained popularity and is not dissimilar to monoskiing. For those who don't suffer from a fear of having both legs stuck together, monoboarding involves a snowboard-type device where the bindings are right next to each other and facing forwards. The boots are similar to ski boots but softer to enable boarders to carve more easily. It may resemble a salute to the tight kneed, stiff carving of the 70s' and 80s', but the technology of the boards allows for more flexibility.
Telemarking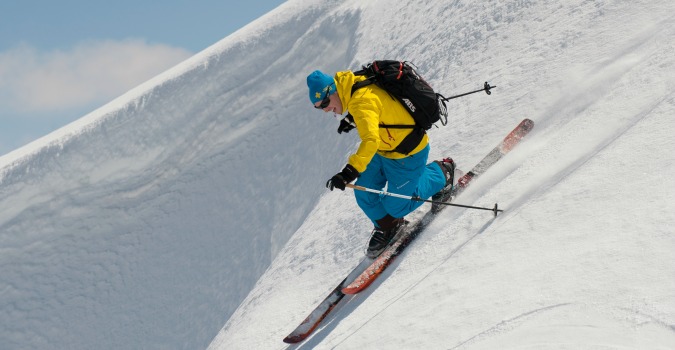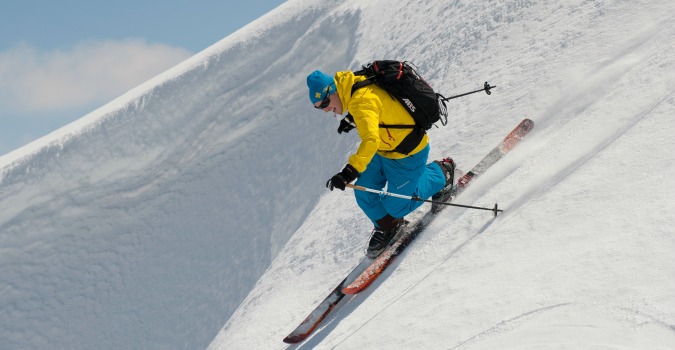 Telemark skiing uses similar equipment to ski touring – telemarkers wear wide downhill-looking skis with a detached heel and shorter, more flexible boots. With every turn they make, skiers' inside (or uphill) leg shifts back, the foot lifts and that knee bends low. There is no hike involved as telemarkers are often not looking for a hike. It is a demanding sport that requires thigh strength and bendy knees, but once you get the hang of it its extremely fun and definitely worth a test on some rentals. (We don't however suggest you try telemarking backwards…)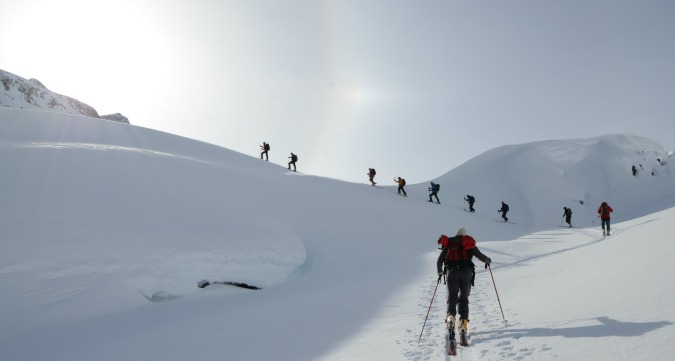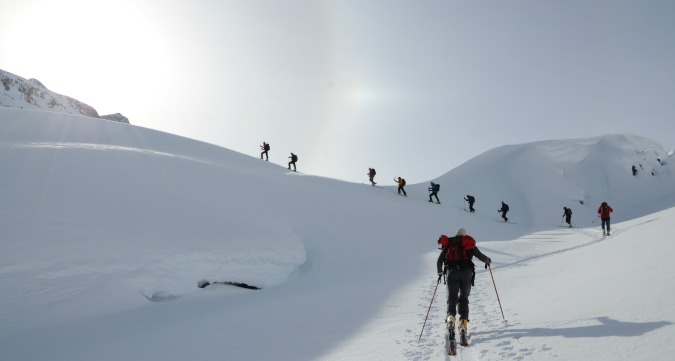 Ski touring adventures take skiers up and out of resorts to high mountain peaks where the snow is fresh and untouched. They use similar skis to telemarkers, but the detached binding can clip in, making the descent a typical, off piste downhill run. Off piste skiing and ski touring have become popular enough in the last few years that CMH Heli Skiing now offer a couple of Heli Assisted Ski Touring trips. With one helicopter lift up to the peakiest heights in the morning, the rest of the day is spent touring and skiing down amazing fresh, Canadian powder.
Cross Country Skiing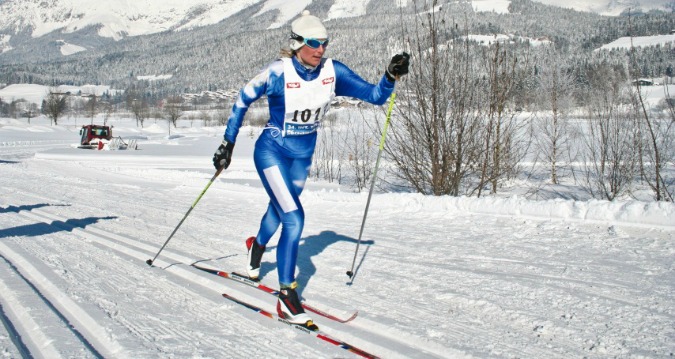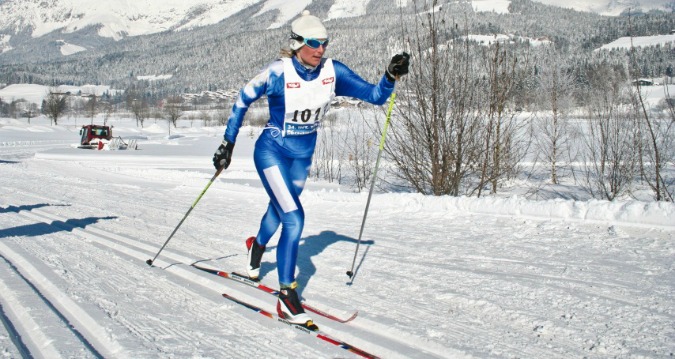 Cross country skiing is a fantastic sport, and if you live somewhere with frequent blizzards and snowstorms, a great way to travel. Cross country skis are much skinnier than the others, with very soft, short boots that only attach to the bindings at the toe. To ski, you alternate pushing off of each foot with your toes, gliding for as long as possible on the other leg. The ski poles are shoulder height to help with the process. It requires a degree of fitness and is very technical, but once mastered is a wonderful way to see the countryside. The annual Canadian Ski Marathon, one of the sports' bigger events, is a two-day 160 km event. The distance is broken up into sections so skiers can do as much or as little as they want, with either overnight camping, sleeping in equipped local schools, or the slightly plusher Fairmont Le Château Montebello.
If you like the sound of heli-assisted ski touring, get in touch with the heli skiing and off piste skiing experts at Pure Powder!