When hearing the term "heli ski", peoples' minds often wander to the world of action movies. The word may evoke images of James Bond or Jason Bourne leaping off a helicopter several feet in the air onto a steep slope, followed by villains, as they expertly manoeuvre their way down death-defying heights and avoiding many natural hazards on the way down. Although heli skiing can be exhilarating, the blockbuster portrayal of the sport is quite different from reality.
In this introductory guide to heli skiing, we will bust many of the heli ski myths portrayed in popular culture. We will start by introducing the concept of heli skiing, after which we will address some common misconceptions that may be preventing people from enjoying this ever-growing sport and community. We will also cover some helpful tips and tricks for heli skiing beginners.
Stick around to the end to learn more about Pure Powder, the UK's indomitable spearhead of heli skiing, and why booking your trip through us is the way to go!
What Does It Mean To Heli Ski?
If you are familiar with resort ski slopes, you know that the excitement of the sport is often quelled by the reality of waiting amongst a score of holiday-makers for a ski lift to take you to the top. Because the waiting time at ski lifts is a common problem, many adventure enthusiasts have begun to look for alternatives to this tedious, time-consuming obstacle that prevents them from enjoying the slopes to their full extent.
On top of that, heavily-populated resort slopes are unable to offer the same thrills as the pure powder slopes that can be found off-piste.
The solution to this dilemma is an invigorating heli ski experience. Pure Powder has been an industry leader in the heli ski sport for over four decades. If you are looking to jump those pesky lines and experience untouched powder, then we have you covered with our variety of heli skiing packages.
Heli Skiing: A Brief History
As one might expect, heli skiing is a contraction of 'helicopter skiing'. Unlike resort skiing, which generally uses a ski lift to take people to the top of the slopes, heli skiing involves using a helicopter to fly to your off-piste starting point.
The idea of participating in recreational heli ski activities comes from a Canadian geologist, Art Patterson, who used helicopters for his geological work. However, he noticed that the helicopters were not being used as frequently during winter when many skiers took to the slopes.
Since he was an enthusiastic skier himself, he had the idea of using helicopters to get to higher, untouched ski routes. Patterson approached an experienced mountain guide, Hans Gmoser, and together they started a business that would charge clients a fee to use helicopters to reach new skiing destinations.
Although Patterson would later withdraw from the heli ski business as he believed the venture risky, Gmoser continued despite this. In 1965, he finally commercialised the industry in Canada.
The Benefits Of Helicopter Skiing
You may wonder if heli skiing is just a faster, more expensive way to get to prime ski routes. However, heli skiing is an exciting alternative that offers many more benefits than just shorter waiting periods. The Pure Powder team is passionate about heli skiing and determined to bring you thrilling off-piste adventures that will leave you wanting more.
We think you will also enjoy the following factors:
Terrain Accessibility: Regular skiing is limited to routes that resort lifts can access. But with a heli ski experience, you are not limited to the congested slopes of the ski resort; you have access to a whole new range of routes in the backcountry.
Snow Conditions: On the slopes of a ski resort, the routes are generally groomed and maintained for a consistent experience. But with heli skiing, you can experience untouched powder and inviting natural terrain – a dream for many ski enthusiasts.
Sense of Adventure: If you are a thrill seeker looking for a new way to enjoy skiing, the heli ski sport offers many new challenges. The sport provides a more intense and exciting sense of adventure as you venture out into the backcountry.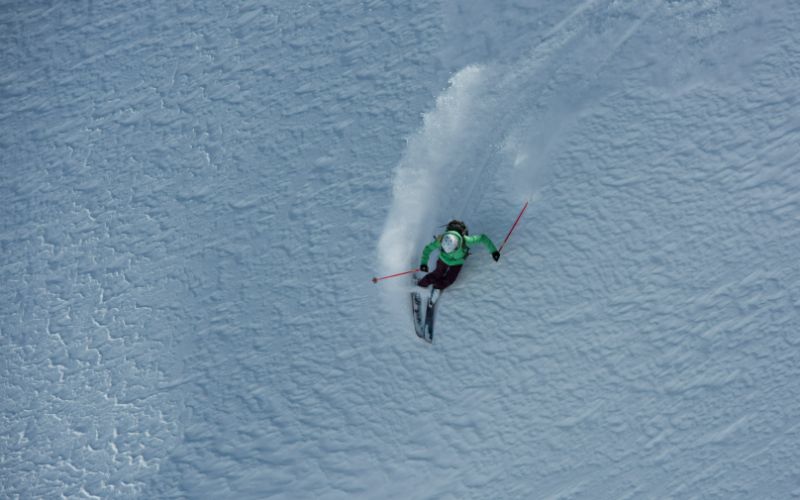 Common Heli Ski Misconceptions
In the introduction to this article, we mentioned how the heli ski experience is often closely related to action movies due to the perceived extreme nature of the activity. We seek to put these myths to rest, giving you the full scoop on the real heli skiing experience. At Pure Powder, we create experiences accessible to anyone at every level, from thrill-seekers to eager beginners. Our expert guides provide a tailored experience that is enjoyable for everyone.
Is Heli Skiing An Extreme Sport?
The general answer is that the sport can be whatever you want it to be. If you are looking for an extreme skiing experience, our guides at Pure Powder can help you organise a ski trip with more challenging routes. But it is also essential to note that not every heli ski experience has to be extreme. Pure Powder also provides trips perfect for beginner heli skiers with similar gradients to ski resorts, the only difference being that you enjoy freshly powdered snow on your way down.
Do I Need To Be An Expert Skier To Participate?
Another common question is whether you need to have a lot of skiing experience before signing up for a Pure Powder heli skiing adventure. As an industry leader in this space, Pure Powder enlists only the very best professional guides. These guides are well-equipped to provide a fun experience for long-time skiers and have the skill to help novices enjoy their time on the slopes. We also offer comprehensive programmes to help prepare intermediate skiers for their very first heli ski trip.
Can I Take Part Even Though I'm Afraid of Heights?
One of the most prominent misconceptions about heli skiing is that you must leap from a hovering helicopter several feet in the air once you reach your destination. This idea can be a major turn-off for those who are scared of heights or those who are not thrill-seekers. However, this is not the case. Our helicopters only act as an alternative means to reach inaccessible skiing routes. Once you arrive at your destination, the expert pilots will land the aircraft safely, and your guides will then lead you down the mountain.
Tips For First-Time Heli Skiers
Now that we have better established what heli skiing is, the next step is to provide our novice skiers with some great tips to help them better prepare for the first time down the slopes on a Pure Powder heli skiing adventure.
1. Get Ski Fit: Unlike standard resort skiing, heli skiing demands a higher level of fitness in order to navigate the natural terrain. This is why we recommend that clients put in some practice beforehand to keep up with the action-packed sessions.
2. Be Prepared: Although we don't expect our clients to be complete experts to participate, we recommend going in prepared. Taking a few days before your heli ski trip to warm-up in a ski resort will get you into the skiing rhythm, allowing you to operate at your best when undertaking a heli skiing experience. We also recommend that those travelling some distance to participate should arrive early and overcome any jet lag before starting sessions.
3. Have The Right Kit: For many, heli skiing may be a once-in-a-lifetime experience; not having the right equipment can very quickly ruin these special moments. When you book your trip through Pure Powder, you can be sure that we will pair you up with experienced guides who will provide you with all the equipment you need to succeed. At Pure Powder, we recommend that you focus on three crucial aspects:
Have an effective clothing layering system that allows you to easily add or remove layers to match the climate in the backcountry. Temperatures may vary from route to route, so it's always best to dress accordingly.
Another crucial piece of your set-up should be quality gloves. They should be warm and waterproof to protect your hands in off-piste ski environments.
Investing in a good pair of goggles is also an excellent idea. Generally, you want to find a pair that does not mist up quickly, so make sure when buying that the goggles are not too tight on your face but rather fit comfortably and allow air to pass through.

Heli Ski Destinations
Now that we have explained our heli ski trips and provided some beginner tips, you may be itching to book one of Pure Powders' guided tours. When you book with us, you are spoiled for choice with various adventurous options in many different countries. So in this last section, let us help you decide where to head next:
Canada: Not only is Canada the home of heli skiing, it is also a great location to ski for multiple reasons. Most important, however, is the fact that we have found Canada to have some of the most consistent powdered snow. With very few down-days and reliably deep snow, the interior ranges of British Columbia, Canada offer some of the best heli skiing on the planet.
Alaska: This is a destination for some of our most adventurous skiers, as wild Alaska embodies some of Pure Powders' most daring programmes. These powder-filled pitches are generally steeper than most, making for an exhilarating descent.
Iceland, Turkey & Sweden: These exotic locations around Europe provide clients with quick access to thrilling heli ski destinations. These ski routes vary in difficulty, so those heading to Europe can choose from beginner-, intermediate- and expert-level adventures.
Chile: We are also excited to provide invigorating ski routes in the Southern Hemisphere. Our programmes in Chile provide a whole new environmental experience and a new exotic location for those looking to explore the Southern Hemisphere from new heights.
Heli Skiing: A Pure Powder Experience
In this article, we have not only introduced the sport of heli skiing but also examined just how inclusive the sport is, preparing you for the adventure of a lifetime.
For many, heli skiing may sound like a distant dream. But our Pure Powder team is here to bring the experience to you. We introduce new people to the sport and provide routes for all skill levels. So, if you are keen to learn more or ready to embark on your very first heli-skiing expedition, don't hesitate to visit our Pure Powder website and get in contact today!