CMH Heli Skiing offers not only the best heli skiing in Canada, but some of the best off-piste skiing adventures in the world. The interior ranges of western British Columbia, Canada have been hailed as the Mecca of heli skiing excursions, and for good reason. There is no shortage of choice with Canadian Mountain Holidays, and they are fully dedicated to providing their customers with the best heli skiing adventures in Canada.
In this brief guide, we will walk you through the experience and what it entails, and we will cover some of the beautiful lodges and accommodation options you can choose from when booking your ski trip. Pure Powder is extremely passionate about making our beloved sport more accessible to avid skiers and adventure lovers alike. Join us on our journey into the beautiful Canadian wilderness for the experience of a lifetime.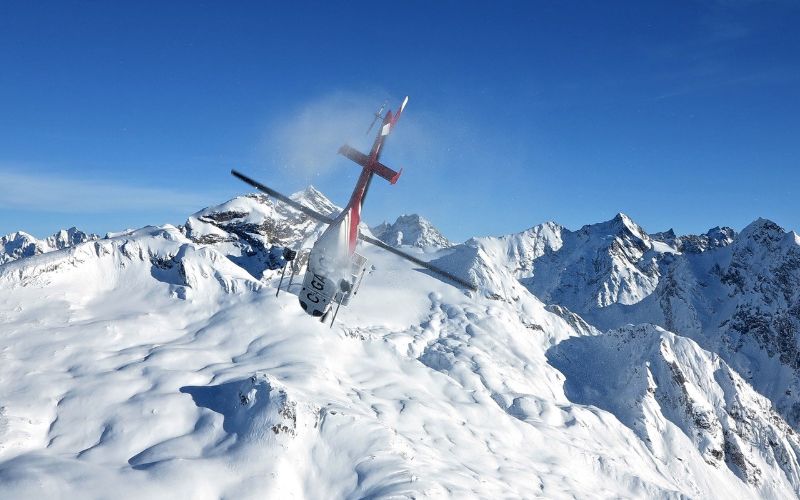 The Best Heli Skiing In Canada
Whether you are new to heli skiing and would prefer a relaxed introduction to the sport, or you are a seasoned veteran looking for big thrills and steep slopes – CMH Heli Skiing has got your back. One of the most inviting aspects of this ski excursion is the enormous variety available to you. The ski area is around 40% the size of Switzerland and that means we can tailor the experience to suit your level of experience.
This impressively vast terrain caters to skiers of all skill levels, providing a plethora of heli skiing zones that range from exhilarating tree skiing to alpine slopes. An interesting point to note is that CMH was actually the first to explore and hand-pick specific locations, so you can rest assured that you will receive an ample number of exhilarating runs, even on bad weather days.
Another defining reason why CMH offers the best heli skiing in Canada is its fantastically reliable deep powder. The beautiful mountain ranges of British Columbia boast plentiful and consistent snowfall, offering heli skiers ideal conditions throughout the season – all of this, whilst experiencing surprisingly few down-days, ensures that guests can make the most of their time on the slopes.
There are also several unique lodge locations that further cement CMH as the best heli skiing hosts in Canada. Nestled in the remote heart of the wilderness, these lodges offer an unforgettable and intimate experience for all, surrounded by natural beauty that will almost certainly take your breath away! Guests are able to immerse themselves in the serenity of the mountains, enjoying world-class accommodations and unwinding after an exciting day out on the slopes.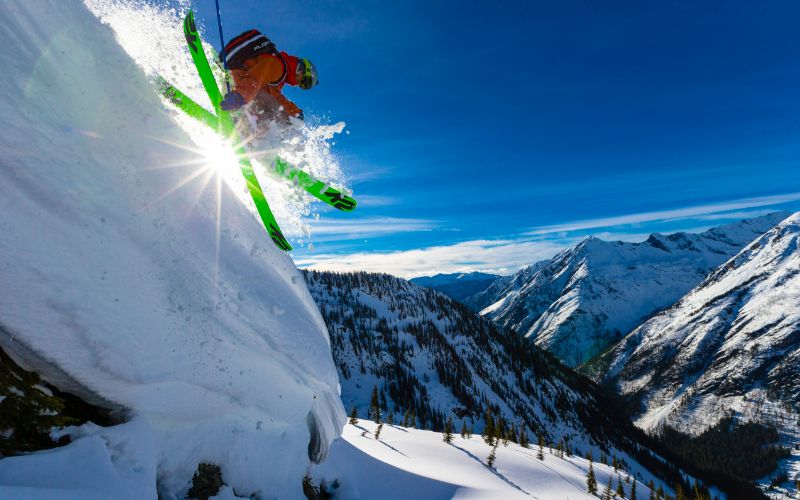 For those of you seeking the ultimate heli skiing adventure, CMH Heli Skiing provides an impressive combination of minimal down-days, reliable deep powder skiing, a massive and varied ski area to explore, and an unprecedented variety of trips and remote lodge locations. Ready yourself to be captivated by the breathtaking landscapes and thrilling runs when you dive into the wonderful world of heli skiing with CMH.
The Best Heli Skiing In Canada: When To Go
The Canadian weather can certainly be unpredictable at times, which is why there are a few crucial factors to consider when planning your heli skiing excursion. You will need to take into account the weather conditions and know what to expect at each time of year.
The good news is that Canada boasts the longest heli skiing season in the world – spanning from December all the way through to April.
December and January are referred to as the 'early season', and this period offers an incredible opportunity for high-quality powder skiing. Often involving icy-cold temperatures and large snowstorms, skiers are able to immerse themselves in the excitement of skiing bottomless powder. Although the days are shorter during this time of year, tree skiing is an exhilarating and popular option over this period. This early season heli skiing offers very good value for money as it is a less popular time to travel.
From mid-January to mid-March is the 'mid-season', and this has traditionally been known to be prime time if you are wanting to experience the best heli skiing in Canada. This part of the ski season provides an excellent middle ground regarding ski conditions – featuring heavy snowfall, colder temperatures that keep the powder dry, and substantially longer days. It is the perfect time for high alpine heli skiing and enjoyable tree skiing even in inclement weather.
Although, because this is considered to be the ideal time of year, demand is high, which makes it harder to secure bookings and can result in higher prices. Luckily for you, Pure Powder has got your back. When you book your ski trip through us, you can be sure that we will do our level best to pair you up with the perfect ski trip at affordable prices to boot.
As the season moves along into April, weather conditions become more predictable, providing clear skies and sunny days that are fantastic for heli skiing. At this time of year, there is still an astonishing amount of new snow, although the warmer temperatures may necessitate skiing at increased elevations to ensure optimal snow conditions.
'End-season' heli skiing provides skiers with wide, unobstructed slopes and the inviting possibility of skiing corn snow on the south-facing slopes. Typically, the snowpack becomes more stable, which makes it a perfect time to hit the steep slopes! These end-season trips offer excellent value for money for heli skiing.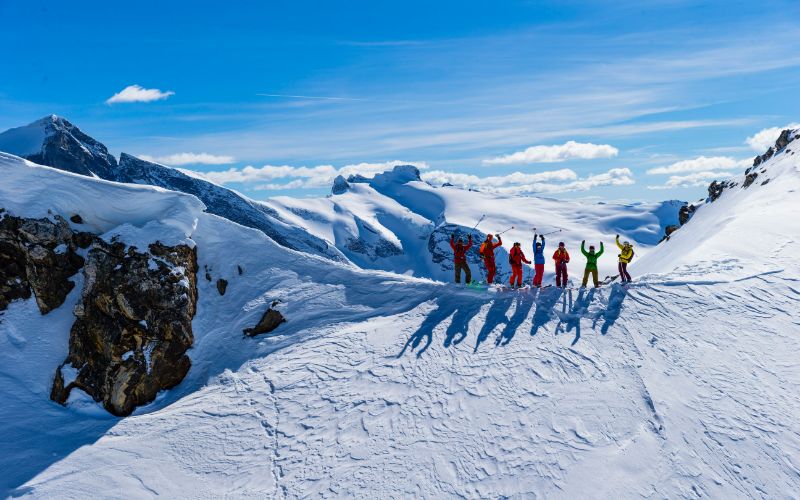 There are differences in cost over the duration of the heli skiing season with CMH. Adventures taking place at the beginning of the season offer great value, with potential savings of around 40% when compared to trips taking place in the midseason. However, if you want to make the most informed decision to ensure that you get the best heli skiing in Canada, reach out to a member of our friendly team here at Pure Powder. We will assist you in booking the trip of a lifetime and answer any questions you may have.
The Best Heli Skiing In Canada: CMH Remote Lodges
We mentioned earlier that we would cover a few of the incredible lodges scattered across the Canadian Wilderness. All of these accommodations are undeniably exquisite and will enhance your heli skiing experience even further.
Bugaboos Lodge
This fly-in remote lodge is a one-of-a-kind experience. Discover the remarkable Bugaboos Lodge that offers not only a relaxing getaway trip but also some of the best classic heli skiing adventures. With a diverse mix of 60% tree-lined slopes and 40% alpine terrain, the Bugaboos Lodge is a true haven for winter lovers. This hidden gem holds an iconic place in the history of CMH, as it acted as the starting point for their pioneering heli skiing operations back in the 1960s. Nestled amidst impressive glaciers and majestic granite spires, this lodge is second to none with its breathtaking vistas.
With more than 1000 square kilometres of beautiful ski terrain in the Purcell Mountains, the Bugaboos provides a plethora of programs to suit intermediate and advanced skiers alike. With an average annual snowfall of 12 metres, this powder playground guarantees an exhilarating experience. Unwind and replenish in your very own rooftop hot tub or explore the lodge's many luxurious amenities including a small gym, steam room, or sauna after an exciting day out on the slopes. Escape to your very own winter wonderland with this incredible once-in-a-lifetime stay.
Bobbie Burns Lodge
Situated neatly within the Selkirk and Purcell Mountains, the Bobbie Burns Lodge boasts a huge variety of ski terrain. Spanning more than 1700 square kilometres of prime slopes and blessed with an average snowfall of 15 metres – it is not hard to see why this lodge has been described as a skiers paradise! However, it is important to note that the fast-paced and challenging nature of skiing here caters to physically fit and experienced skiers specifically.
This exclusive destination is accessible only by helicopter and within easy reach of Calgary. Throw yourself into some of the many fantastic amenities that the Bobbie Burns Lodge has to offer. Recuperate in the outdoor hot tub or sauna, get a good workout at the gym or climbing wall, or browse the lodge's shop for souvenirs to commemorate the adventure. If thrilling, fast-paced skiing is what you're looking for, head to the Bobbie Burns Lodge, where unmatched thrills, stunning landscapes, and a host of luxuries converge to create an unforgettable experience for advanced skiers.
Galena Lodge
Embrace the appeal of adventure at Galena Lodge, a rustic and remote sanctuary in the mountains that is world-renowned by heli skiers. This exquisite lodge caters to thrill-seekers who yearn for exciting days out on the slopes followed by lively table tennis tournaments in the evenings. With an easy-going and laid-back atmosphere, you can be assured that the exhilarating skiing experience is well-balanced with the cosiness of the lodge itself.
The skiing can be categorised by the area's extremely deep snow, captivating tree skiing, and famous pillow lines. The ski terrain surrounding the lodge also experiences an average of 18 metres of amazingly powdered snow, and the backdrop of the Badshot and Selkirk Mountain ranges makes for a truly majestic setting. Come and find out why this spot is cherished by skiers across the globe; we are certain that you won't want to miss out on this adventure.
Heli Skiing: Regarding Proper Equipment
It is always good to be prepared, especially when off-piste heli skiing. We ensure that operators provide our clients with high-quality gear for their skiing adventures, as it can definitely impact the overall enjoyment of the experience.
Good Quality Skis – This may seem obvious, but we cannot emphasise enough how crucial it is to use skis you can trust. High-performance skis are critical for successful heli skiing in the British Columbian mountains.
It is better to opt for powder-specific equipment with wider dimensions, as it provides better floatation and stability in deep snow. It is also preferable to consider skis that are specifically designed for backcountry and off-piste skiing, providing you with greater manoeuvrability and responsiveness on the slopes. Your heli skiing guide will provide the right gear to help you make the most of your trip. We will provide you with complimentary powder skis on your trip to Canada, so you don't need to worry about this in advance.
Heli Skiing Safety Equipment – As we always like to emphasise, safety is the number one priority when heli skiing. Your guide will make sure that you have the necessary avalanche safety gear; including an avalanche transceiver or beacon, shovel, and probe.
About Pure Powder
Founded in 1978, Pure Powder is famously known as the largest heli skiing specialist in the UK, organising ultimate powder skiing experiences all over the globe. When you book your heli skiing or off-piste trip through us, you can be sure that our team will provide you with the highest care and attention before, during, and after your ski trip. If the majestic powder slopes are calling your name, book your next trip through Pure Powder today!