For those with approaching nuptials, planning the perfect honeymoon is a crucial factor in making the whole event a success (and in ensuring the continued happiness of new wives). For skiing couples this could involve seeking out a new powdery venture on which to embark together. For a honeymoon of pampering, serviced lodges, excitement and the most exclusive skiing in the world, heli skiing with CMH is the ultimate trip.
Two guests recently back from their heli-tastic honeymoon reinforced our views on the subject – 'As a honeymoon it really couldn't have been any better – we have so many happy memories and wonderful reasons never to forget it…'


When planning a heli skiing honeymoon, you must first consider what type of skiing and après ski you are in the mood for. Do you fancy slower, softer descents with long afternoon hot tubs? Or perhaps fast-paced steeps and all the vertical metres you can ski? Maybe you crave a quiet, intimate lodge setting, or the pleasure of eating and drinking with friends every evening. Whatever you desire, the heli skiing experts Pure Powder can provide you with the perfect start to married life.
'Brilliantly organised, great fun and most importantly absolutely fantastic skiing.' – Honeymooner Nick sums up his recent trip to CMH Heli Skiing's Revelstoke base. He also came back with the ultimate ski shot to show his friends (see below!)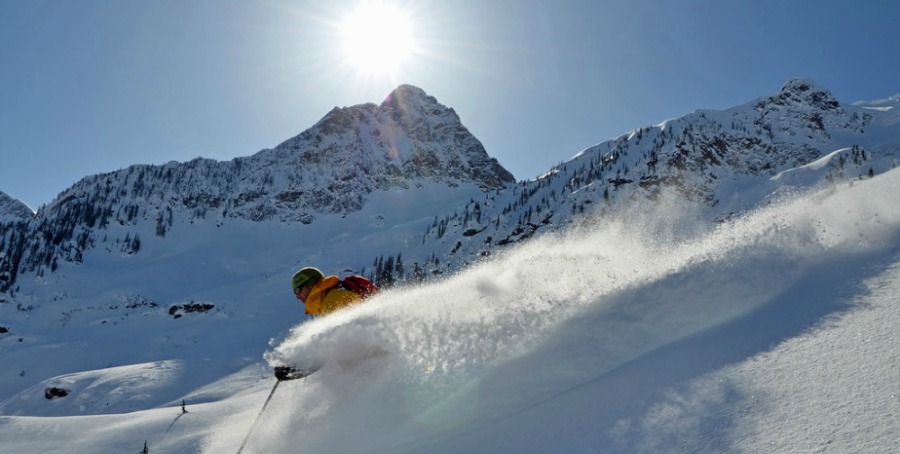 Calgary, the starting point for a Canadian heli holiday, is within reach of so many excellent resorts in the Rocky Mountain Range that it can be difficult to decide where to warm up your skiing legs, if you decide to do so. Or do as Nick's new wife Zoe did and learn those vital heli skiing powder skills on a Girls' School Powder Introduction for a few days beforehand. She was then ready to join Nick skiing this powder nirvana together as man and wife!
If this sounds like an ideal honeymoon for you and your other half, call us on +44 (0) 207 736 8191 or contact us by email for all your heli skiing needs and get your planning cared for. As Nick said, 'Definitely better than the Maldives – just so glad I married the right woman who agrees with me on this…'