If you fancy a quick trip abroad to ski and relax, I have come to the conclusion that skiing in Zermatt is an excellent way, if not the only way to go. On Wednesday afternoon I was sitting in the off piste and heli skiing workshop that is the Pure Powder office on what was turning into another cold, grey London day and by Thursday I was eating lunch at 2,815 metres, halfway up the Gornergrat. My trip was easy to organise and a welcomed intermission from work catching the gorgeous spring skiing before the Season ends!


Getting there:
-Flying to Geneva: I recommend flying the night before you plan on arriving in Zermatt. There are numerous hotels near the airport, many of which offer a free shuttle to and from, as long as you arrive before 22:00.
-Trains leave frequently from Geneva airport to Zermatt with typical Swiss efficiency, and the journey is only four hours
-On your arrival in Zermatt, hotels can be called from a free phone in the station, and a driver sent in a 'resort-capable' car to pick you and your luggage up (real cars aren't allowed in the town).
Where to stay:
Zermatt has a lot of hotels to choose from. A lot. If you're overwhelmed by your choices, feel free to ask our advice as we have a few highly recommended ones. Personally I was floored by the 3* Hotel Perren, where a buffet breakfast of muesli, yogurt, eggs, bacon or sausages, cold cuts and cheese, loaves of bread, croissants and home-made jams is included. Many of the rooms have large balconies with an unobstructed view of the endlessly impressive Matterhorn.


Other benefits of the Perren include:
*Excellent location: the Perren is far enough from the main drag in Zermatt that it has a quiet and relaxed atmosphere. It's a 10 minute walk to the Gornergrat and a 4 minute walk to the Sunnegga train, and the buses that ferry skiers to all the lifts about town are close at hand too.
*Half-board: like many others in Zermatt, the Perren offers half-board – a five-course dinner is available with a set menu every night, to truly remove the nuisance of having to even think about what to eat. The delectable food is only CHF 30 a head and each evening the menu suggests one of their local wines, not included in the price. The Favi rouge and the dry, white Heida were amongst my favourites, but try as many as possible as these wines aren't available outside Zermatt.
The mountain:
*Skiing: although there is always the possibility of a white-out, there are ways to enjoy the fresh snow that usually accompanies one. For example, the Matterhorn Glacier Paradise can be taken to the top, wind permitting, and if it can be managed skiing into Cervinia can be really astounding. The snow collects well on the Italian side and as it's a different valley, it can host a completely different weather system (lift passes automatically cover both resorts). For more adventurous types, Zermatt has incredible off piste skiing and heli skiing. ABS-toting and skin-wearing skiers can be seen trekking all over the mountain on clear days while helicopters take skiers even farther afield to find fresh powder.


*Eating: Many of the moutain's own restaurants are excellent for lunch as they offer quick, easy and full plates of pasta, rosti, soup and salad and more, for those wanting a short break between runs. If a longer lunch is to your liking, a classic example of a Zermatt lunch spot is the Adler Hitta. With a mountainside view of the Matterhorn and the Gornergrat area, it is sheltered enough to allow diners to enjoy their wine and Swiss specialities on the terrace when it's sunny but still chilled. It is in the Sunnegga area, off the Findelbahn chair, so is accessible to all levels of skiers.
Whether you ski off piste, ski on piste, almost ski, après ski, or merely need a rest, all can be done at Zermatt. And all from somewhere on the mountain with the Matterhorn looming in the distance (a plethora of restaurants and bars can be reached by train or lift, so skiing is not needed for descent after the first beers of the afternoon).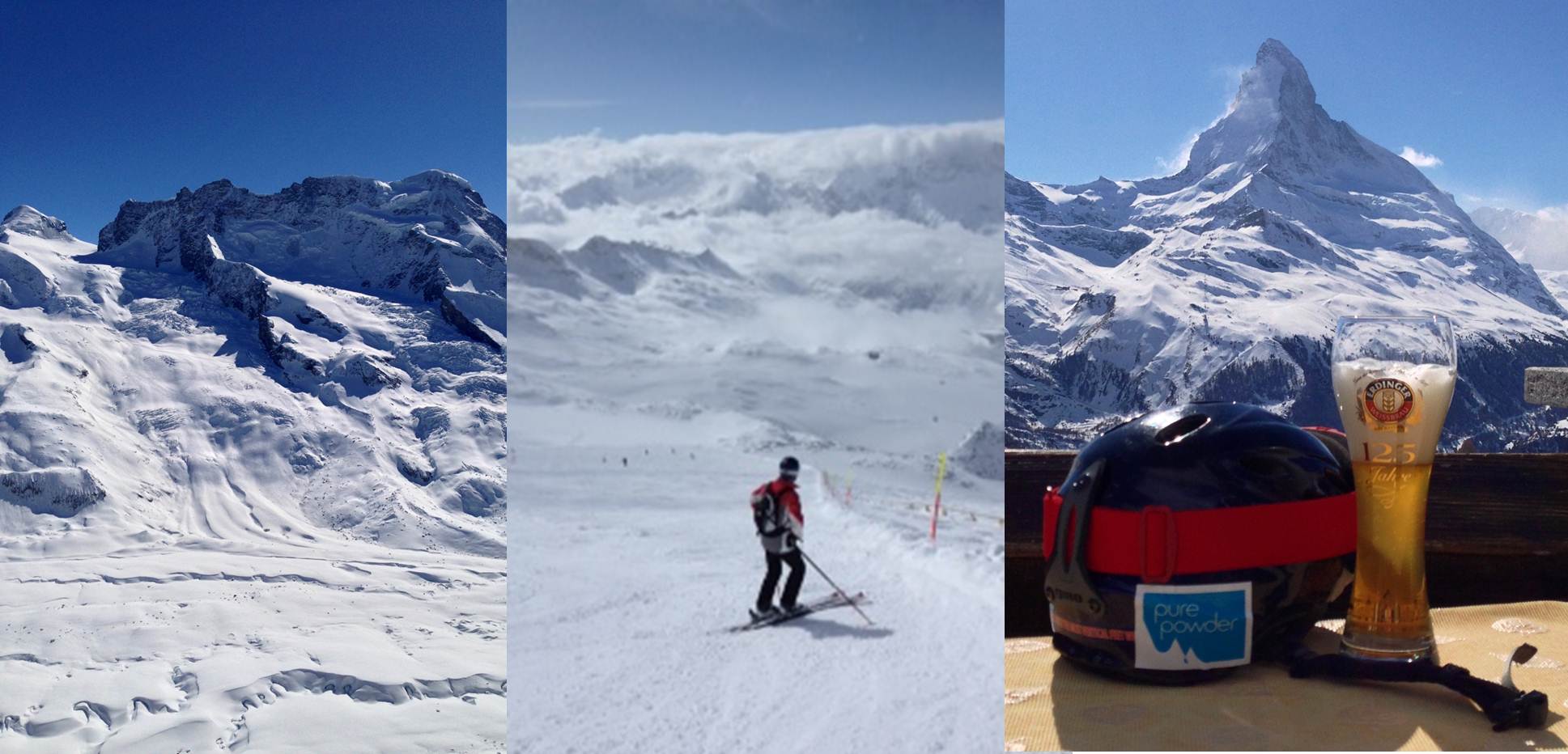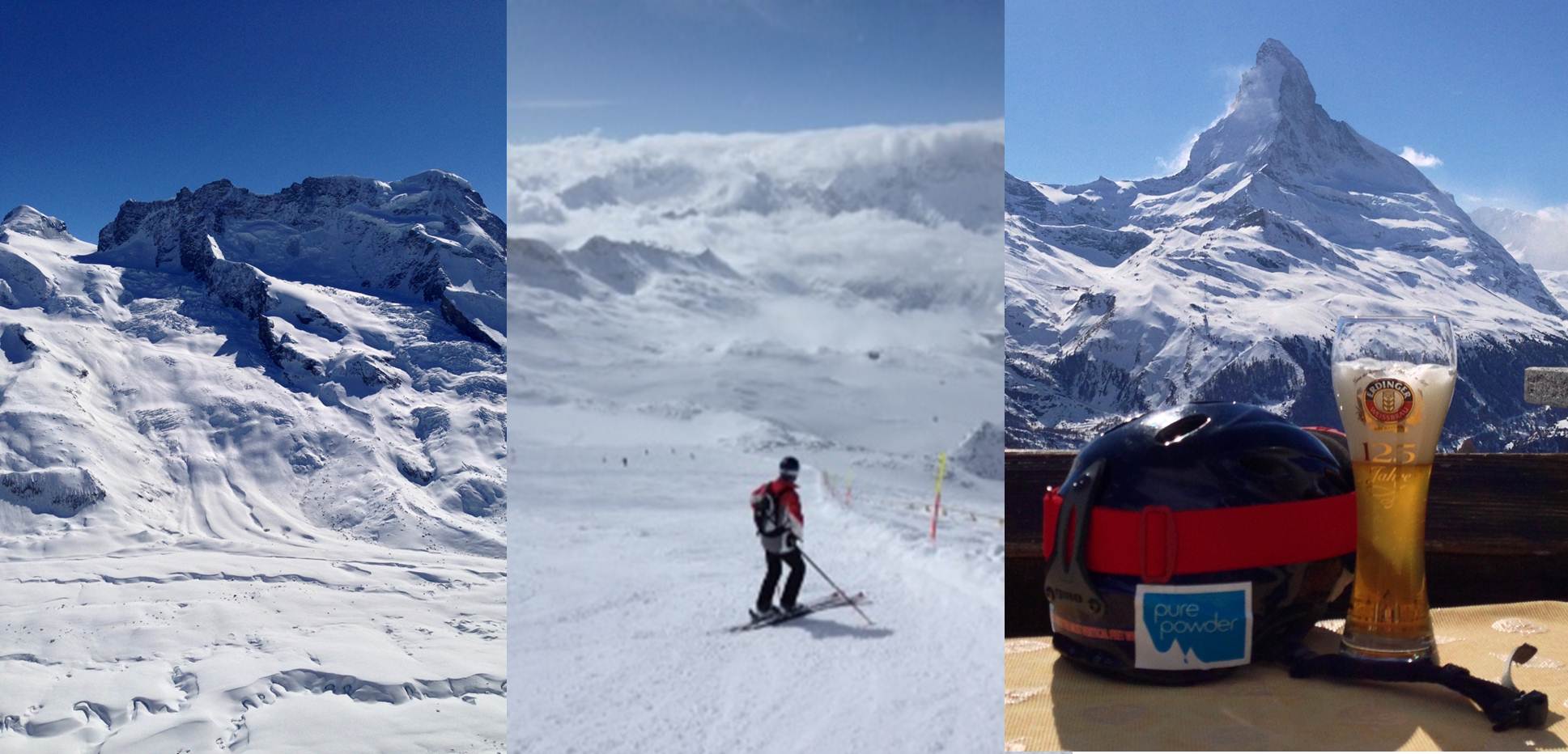 Can't wait to get theret? Find out all you need to know on Zermatt and then give us a call on +44(0)207 736 8191 or email us for help planning a last minute spring skiing getaway!