Skiing in one of the finest resorts in Switzerland may conjure up grand ideas of royalty and fur headwear but I was pleasantly surprised when I visited Klosters last weekend for a Pure Powder Off Piste trip. The snow had an unbelievable base 3 metres deep so I was pretty excited to be out skiing but our first day on piste was met with teeth shattering temperatures of -22. My advice to anyone skiing in this weather is never to remove any item of clothing: if there is a good photo to be taken and that glove needs to come off don't do it. It's not worth it (hence the lack of photos of our piste days).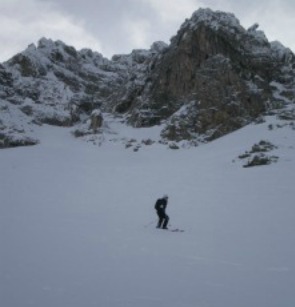 I was staying at the stunning Hotel Walserhof – a Relais and Chateaux hotel that has been known to house rather eligible royal guests in its time.  Situated 5 minutes walk from the centre, it has great access to the shops and slopes. The rooms are great and nicer than many of the other hotel rooms I saw. Remember this is an award-winning restaurant so portions are dainty and that second helping of muesli comes in handy with a tough day on the slopes ahead.
The trusty skills of the Gotschna Sport staff kitted me out with fabulous K2 skis that gave me a great mixture of on and off piste terrain. The shop is only 2 minutes walk from the main Gotschna lift ideal for those, like me, who don't relish a long walk carrying skis. You can also leave your skis and boots here overnight meaning the days of walking back to your hotel in ski boots is long gone. What bliss!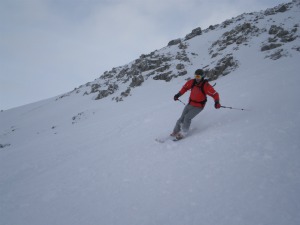 Klosters offers some wonderful piste action. The Gotschna lift provides access to the Parsenn/Gotschna ski area with famous runs such as the Weissfluhgipfel; one of the longest runs in Europe spanning 12km down to Kublis. The Parsenn bubble also has some fun runs to it and I was surprised by how wide (and empty: blame the temperature!) the runs were here. Add to that some of the finest mountain restaurants offering treats such as their infamous Rösti (a fried potato dish with cheese and bacon) that will weigh you down the mountain after lunch.  Family-friendly skiing can also be found on the Madrisa side of the mountain suiting for those looking for a gentler ride.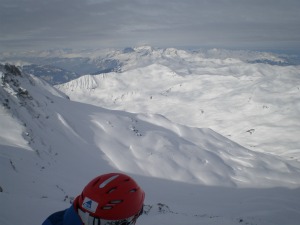 When it comes to off piste delights, Klosters has it is in spades. With dozens of snow-covered meadows to choose from, the right conditions mean endless possibilities off the beaten track. Meeting our Pure Powder guide, Markus, at Gotschna Sport early gave us plenty of time to get our skis set up with touring bindings, skins and ABS packs. Kitted out, we made our way up the Gotschna bubble and were soon made to take our skis off and start walking up a cliff. Being met by local mountain goats with rather large horns (called Steinbock apparently but at this point I wasn't that keen to study them up close) we then skied the gmeindböden down. This is a rather steep run to start off with (and a little crusty on the day) but finished off with superb tree skiing down to Parsenhutte.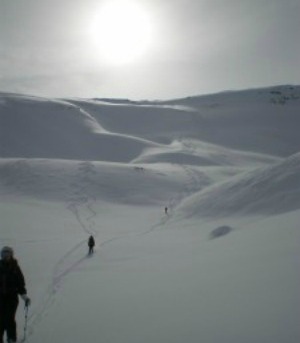 We then scaled the Weissfluhgipfel starting with a superb black run but we veered off course at the top to ski the steep diretissima. This is when you're faced with the endless expanse of off piste terrain on offer as the diretissima overlooks the back of the mountain and you can see Arosa in the distance. At the bottom is a ghost village of old ski lifts that look like it's been stuck in time. Putting our skins on, we then started climbing up to drimachenspitz (about 1 ½ hours of walking) which wasn't too steep until the last stretch.  Markus, our guide, cleverly provided a chocolate bar about an hour into the journey providing ample sustenance to keep us going! The skiing down from here was magical. Large meadows are the norm in Klosters and these make for a real treat. Skiing down to Kublis we were just in time for a train back to Klosters Platz (the ski guides know all the train timings and travel is free compliments of your ski pass). Lunch was a quick bite to eat back at the famed Chesa Grischuna before jumping on my train back to Zurich. I wouldn't recommend turning up at Heathrow still with your ski gear on – it makes for some funny looks.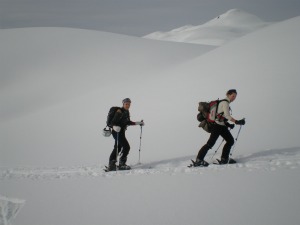 So Klosters has become one of my new favourite European destinations as although it's expensive it's more than worth it. Apres ski here is pretty good (pop into any of the traditional Schwendi bars on the ski home as the hot chocolates have alcoholic additions), nightlife is scarce but fun can certainly be had at Casa Antica, but my main pull back to Klosters would definitely be the skiing. Easily accessible from London with a simple train journey from Zurich, this is the off piste destination of choice!
Want to test the Klosters powder for yourself? Pure Powder still have off piste trips running to Klosters in the 2012 Season. Please contact us for more details on planning your perfect off piste trip.