We're massive fans of the interior ranges of British Columbia in Canada and in our humble opinion it's as close as heli ski perfection as you can get.  It's where you'll find huge expanses of un-tracked 'Champagne' powder, tree-skiing for bad-weather days and unbeatable heli skiing know-how from the guides and pilots. 
 However, this is no normal season and as things stand the Canadian government are keeping their borders closed for the foreseeable future. We hope that this will change but, in the meantime, it's time to consider some alternative options for this year's powder skiing fix…. 
We've compiled a list of our alternative heli ski options for this season which we hope will be easier to get to.  Be sure to keep abreast of the latest travel advisories on our travel update page.   
ONE // Iceland 
If you're looking for the best possible accommodation for your heli skiing trip then it doesn't get more luxurious than Deplar Farm.  You'll find this super-luxe lodge in the Fljót Valley on the mountainous Troll Peninsula in northern Iceland. It is an adult's adventure playground with a staggering range of activities from heli skiing to sea kayaking, dry suit swimming, snowmobiling and whale watching (just to name a few!). 
The lodge itself is newly built in the classic Icelandic style and blends into the natural landscape with its black timber cladding and living roof.  Deplar Farm is open all year round however the heli ski season kicks off in mid-March to May.  And the skiing…?  Just picture huge couloirs and vast valleys just waiting to be explored – and the long-extended daylight hours due to the midnight sun mean that guests can make sea-to-summit runs even after dinner!  It's about the whole package experience and not just the heli skiing so make sure you leave enough time in the day to enjoy the incredible spa and swimming pool! 
 Deplar Farm offers 4- and 6-day heli skiing trips in March, April and May.  Single rooms are available on special request. 
TWO // Pyrenees 
Vielha is located in the Val d'Aran region surrounded by the Pyrenees Mountains of northern Spain. It is relatively close to the French border, however as heli skiing is banned in France, you can head to Spain to get your heli ski fix. The area is all about the stunning scenery and it is a fabulous place to base yourself any time of the year if you're a lover of the outdoors. For the heli skiing programme, guests have the choice of three hotels to stay near Vielha which are suitable for a range of budgets.  
Heli skiers will explore the varied terrain in the Val d'Aran region throughout its fantastically long season which stretches from mid-November through to April. This region benefits from the Atlantic climate that brings lots of snowy precipitation right the way through the winter.  Heli skiers can expect runs of around 800 vertical metres varying from skiing in the high Alpine as well as in lower elevations through the trees.  
Although the heli skiing in the Val d'Aran region is less reliable than Canada for example (you can expect an average of 2 to 3 down days per week) there are plenty of 'backup' options – for example some resort skiing in the neighbouring Baqueira, snowmobiling, ski touring or if you need a day off skis to rest those ski legs then you can go regional wine tasting.   
The heli skiing programme is made up of groups of 4 guests with one guide. Each helicopter has a maximum of 4 groups on rotation however private trips can also be arranged. 
Pyrenees heliski offer 1-, 3- or 5-day trips and you have a choice of three hotels to stay at.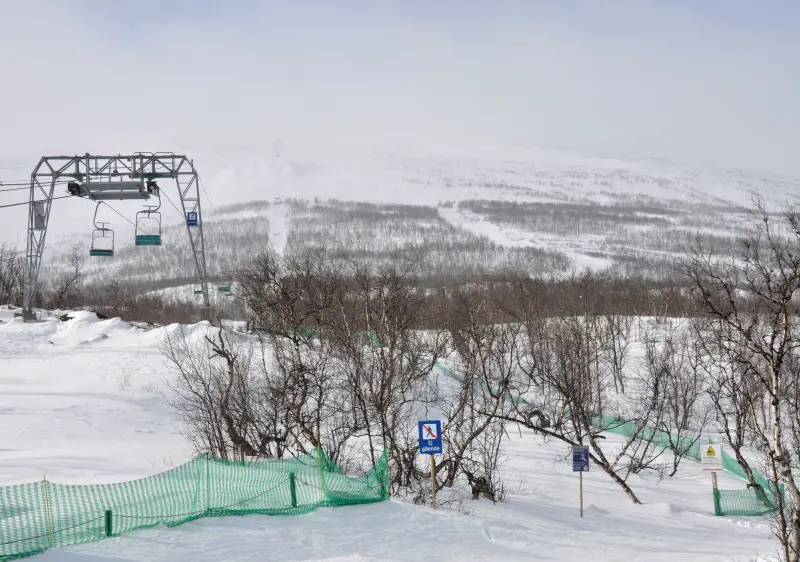 THREE // Sweden 
The Abisko Mountains are situated in one of the last, great wildernesses in Europe and so there's no wonder why the IFMGA certified guide Stefan Palm (whose heli skied around the world) and his highly trained team at Heliski-Guides Sweden set up their heli ski operation here. Heli skiers stay at the Abisko Mountain Lodge, just one hour's drive from Kiruna in northern Sweden; and have access to the immense ski area which is similar to the size of Austria.  Due to the lack of tree skiing in Sweden, days are spent skiing in the high Alpine where there is a huge variety of open bowls and steep descents to shred.  
The lodge has 20 rooms and its rustic style makes for a very comfortable stay.  The Abisko Mountain Lodge is also home to the highly regarded Brasserie Fjällköket which showcases local delicacies which include reindeer and freshly caught fish from the nearby river. And, with experienced chefs from all around the world, guests should prepare for a fantastic culinary experience during their stay. 
The season is fairly short here and guests can heli ski from March through to May.  The heli ski groups are made up of 4 guests with one guide per group.   
Abisko Mountain Lodge and Heliski-Guides Sweden offer trips from 3– to 7-days and can be tailored around your requirements. Private groups and single rooms are available on special request. 
FOUR // Turkey 
Small group heli skiing in Turkey is a very exciting experience which operates out of the small mountain village of Ayder, which is situated in the Kaçkar Mountain Range near the Black Sea in the northeast of Turkey.  The heli ski groups are made up of 4 guests plus a guide with a maximum of 4 groups sharing a A-Star helicopter.  Accommodation is at the Hotel Hasimoglu – a small, family-run mountain hotel which has a cosy and friendly atmosphere. 
The Kaçkar Range offers exclusive access to 5,000 sq. km of Alpine terrain ideal terrain for heli skiing.  Regular snowfalls throughout the season twinned with a deep and stable snowpack makes this an excellent heli ski destination.  The heli skiing is characterised by long, Alpine runs which meander back down to the picturesque valley. 
The guides are multinational heli skiers who spend the majority of their season heli skiing all over the world. Guests are in safe hands when heli skiing in Turkey, as the heli ski guides are internationally certified and the helicopter and pilot expertise is provided by Air Zermatt. 
Hotel Hasimoglu with Heli Ski Pro offers 3- and 7-day heli skiing trips from January to March.  Private groups and single rooms are available on special request. 
Are you looking for an alternative trip this coming 2020/2021 season? Get in touch with one of our heli ski specialists today to find the best option for you – call the office on 0207 736 8191 or email info@purepowder.com