Now, you may think at the age of 28 that I will be young and nubile. You are sadly mistaken. My ripe old age has brought with it back problems of a 90 year old and a slightly squeaky knee that leaves me thinking that genetics have a lot to answer for.
So when I found Martin Hannaford at the Ski Show this year, bouncing around on what can only be described as Robocop's long lost brother, I was intrigued. Martin is Ski Mojo's Marketing Director and explained that the Ski Mojo is essentially an extra pair of thigh muscles, therefore taking 1/3 of the strain off the knees and acting as a shock absorber promising to "ski powder all day long".
If anyone wants to find a cheat to having better posture, extra power and more time skiing, it's me. Due to my back problems, I already wear a super-sexy 'support girdle' whilst skiing but I'll be using purple rinse before too long if I turn up looking any less able. But you only have to look at the Testimonials to realise that the Ski Mojo really does work:
"The effect is weird at first, and then it's wonderful. It's as if someone has just injected your legs with Asterix the Gaul's magic potion.  You can still flex and move them in the normal way, but they feel as though they have twice the power"
So, with much glee, I quickly agreed with Martin that I would test it in Chamonix on a Pure Powder off-piste trip I had coming up.  Even though it looked like it had enough parts to rival a Meccano set, Martin promised that by the second day I'd have it mastered…
In Chamonix we were faced with some off-piste skiing in tricky conditions. Cement-like powder was the order of the day and after 10 slightly painful minutes putting it on I hoped it was worth it (please see footnote).
Martin had mentioned the Ski Mojo would also better my posture. Whilst it certainly took a run or two to get used to it, I noticed that my skis felt more stable due to way it positioned my legs. Whilst skiing La Thuile, we had a hefty portion of thick, heavy powder and moguls to get home through. Because of the Ski Mojo, my legs were less tired (my knees didn't hurt at all) and I felt I had more control. The fact that it also saw me up and down the Argentiere glacier shows how durable it is. I really did forget I was wearing it and considering a week before my Physio had urged me not to ski at all shows how much pressure it took off my lower back.

You may be thinking the Ski Mojo isn't for you. Indeed it may not be. But for those of you with tiring legs, knees and backs I would highly recommend it. It's certainly not a cheat or an imposition and caused much interest on the slopes. The downsides? Well, it had to be the squeaking (which was sorted with some highly technical spit after remembering we'd been in a fairly heavy ice storm). But for under £300 I'd urge anyone who is not as fit or able as they once were to invest!
Ski Mojo has just launched its brand, spanking new device taking considerably less time to shimmy into. Sleeker, lighter, more comfortable, more user friendly and can be fitted with just the use of an Allen Key. We are delighted to offer a 10% discount on Ski Mojo's for Pure Powder guests – please contact us for more details.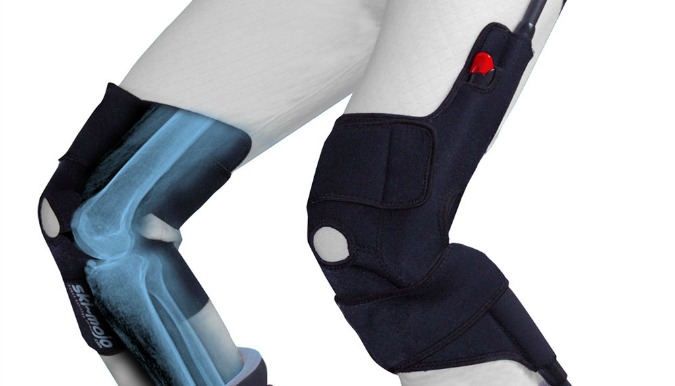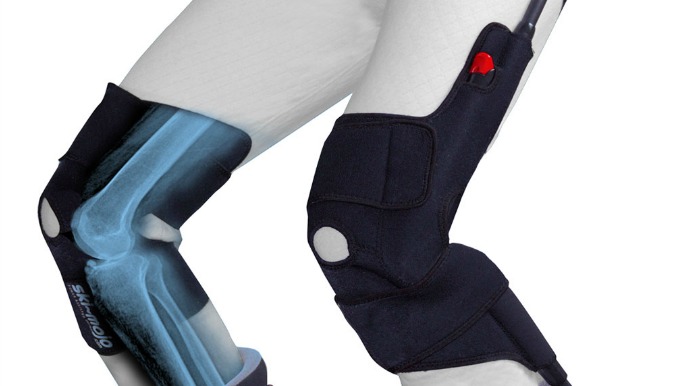 If you fancy a Pure Powder off piste experience (with or without the help of Ski Mojo) then you should check out our all new European Off Piste trips.