If we were to propose 7 days of skiing powder – un-touched fresh tracks – for 6.5 days in Canada you'd start thinking big bucks. Maybe even a Cash-in-the-Attic scenario to loosen those tightened January belts left over from Christmas. But CMH Heli Skiing really do want you to experience the deep powder that makes their private tenure of British Columbia the best in the world (it also happens to be 1/3 of the size of Switzerland) which is why they have conjured up the Ski Fusion and Touring programmes designed for those keen skiers to experience the heli ski drops at a more affordable price tag.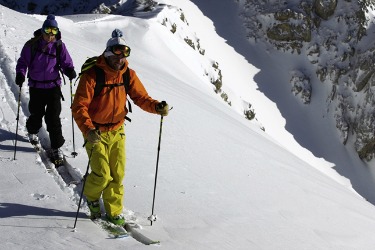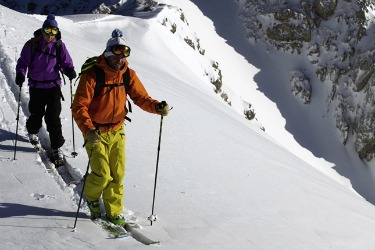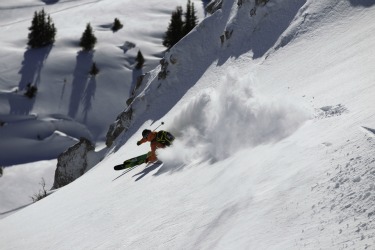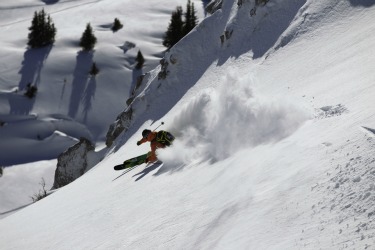 Staying at the Bugaboos lodge, this is where heli skiing started. Invented here in the 1960's by Hans Gmoser – the founder of CMH Heli Skiing –  the lodge and surrounding ski area is steeped in history and was Hans' first choice of terrain when he was paving the way for heli skiing. Chosen for its rich variety of terrain, the Bugaboos offers glorious high alpine and plentiful tree skiing all set amongst the stunning backdrop of the Bugaboos granite spires.
On your return, you will be met with sumptuous teas (think sushi presented on snowboards and Beef & Ale pies) and a 3 course dinner every evening. This trip includes all your accommodation and food so you will not go hungry! Transfers are covered by CMH so we just need to get you to Calgary and they look after you from here on in.
Combine 4 days of heli skiing with 3 days of ski touring and you have CMH's 'Ski Fusion'. For just £3,650 you get to experience spending 7 nights and 7 days in the Bugaboos lodge with all your food, use of powder skis/snowboards, safety equipment, guiding and skiing thrown in (including up to 17,500 vertical metres of skiing guaranteed). In fact, the only thing not included is your flight and alcohol!
Running at the end of the Season, fitness is still key (the touring days will involve one heli drop at the beginning and the end of each day). Skiing in a group of 10 skiers with 2 guides, your guides will make a daily decision based on the weather and ski conditions to decide which days will be spent ski touring and which days you'll be heli skiing. Plus £3,650 for 7 days of skiing un-tracked fresh powder each day (with 4 of these days going heli skiing) seems all the more feasible when you compare the same trip to the prices of Europe!     


Spending 7 nights at CMH Bugaboos in April for under £3,000 is also an option on their specialist ski touring weeks. With one heli lift in the morning, CMH will fly you out to the terrain and you'll spend the day skiing the dry, champagne powder of British Columbia. Hans Gmoser believed you 'earned your turns' so this is more what he had in mind before the helicopter became King.
You'll avoid the heavy packs of European touring with just your skins and lunch for the day required. At the end of the day, you'll be picked up by helicopter and flown back to the lodge to see you other heli ski comrades for tea.
A ski touring week is taking place in the Bugaboos from Saturday 27th April – Saturday 4th May 2013. There are still some places available for £2,900 (exclusive of international flights, alcoholic drinks and any lodge extras such as massages). Please contact us to claim your place. Flights start at £650 so now is the time to book!