Posted by CMH in September 2011:
C'mon, skiers and riders, we know you've got some rad pics from last Season or even last weekend, from the resort, the backcountry or even on the grass/sand/water. We want to see them! And so do a lot of of other people.
Introducing #SkiFotos on Twitter. Following in the footsteps of those who created #FriFotos, CMH Heli Skiing (@CMH_heli) has partnered with our friends at Banff Lake Louise Tourism (@Real_Banff and @Banff_Squirrel) to launch #SkiFotos: A forum for you, the skiing community, to post and share your best/funniest/worst photos of your skiing and riding addiction.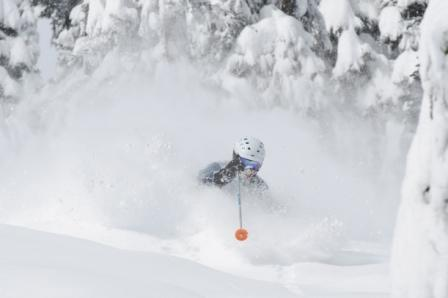 Today's #SkiFotos is by Craig McGee, Assistant Area Manager at the CMH Adamants Lodge
Every Monday, post your ski photos on Twitter using the hashtag #SkiFotos. Skiers and riders from Aspen to Verbier will be able to check out your pictures, like them and retweet them.
Didn't take the photo yourself? That's cool. Just be sure to credit the photographer who took it or the website where you found the photo.
Not a pro shooter yourself? Hey, don't sweat it. Whether you took the photo with your iPhone or a Nikon SLR, it still qualifies for #SkiFotos. It's about sharing your passion for the powder.
See you on the slopes and if we don't meet there, let's at least connect on Mondays at #SkiFotos!
Be sure to follow @purepowder on Twitter to see their #SkiFotos throughout the 2011/12 Season. With up-to-date snow news and inspiring images from the Heli Ski Season with CMH, what's there not to love?!