Arriving on the slopes fit and healthy is the best way to ensure that you make the most out of you skiing trip.
And as the Summer whizzes past us, now is the time to start thinking about your ski fitness for next Winter whether heli skiing or off piste next winter. So here at Pure Powder we have (exhaustingly) researched the latest fitness trends and come up with the best programmes to get you going on your ski fitness in Summer 2013:
1. Skier's Edge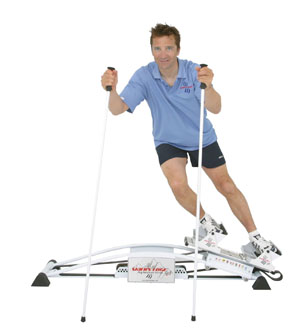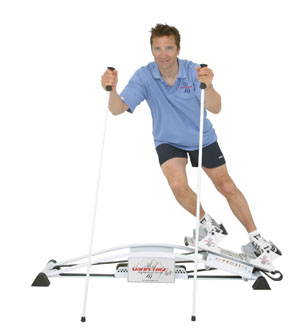 Recognised as the #1 technical ski conditioner in the world, the Skier's Edge will get you ski ready in no time. Used by World Cup racers and Olympians, Graham Bell has been waxing lyrical about these machines for years which combine a great cardiovascular workout by simulating the movement of skiing.  It also helps improve your balance on your skis so don't be surprised if your carving technique improves dramatically when the slopes come a-calling!
Skiers Edge have their new quieter T5 model available in Classic, Big Mountain or World Cup Plyometric Powder (for the racers amongst you)
2. Powerplate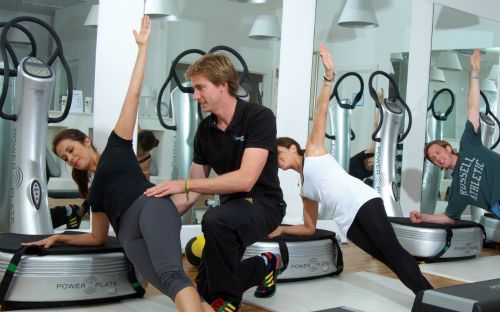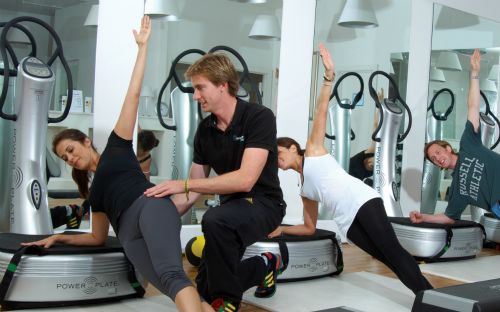 It might not look too glamorous, but wobbling about on a powerplate is a great way to get ski fit. Powertone have studios throughout London where you can improve your muscular endurance and develop core strength in just 25 minute sessions meaning you can ski for longer and avoid injuries whilst on the slopes. The Chelsea studio even has ionised air re-creating the effects of mountain air. They also now offer the latest technology in ski training, the reACT Eccentric Training system, offering the very best in stabilisation by a non-impact method. It's a one stop shop for training for the mountains!
Powertone Chelsea are offering Pure Powder blog readers a free trial class followed by an exclusive 20% discount off your first block of 5, 10 or 15 sessions. Be sure to take advantage of this when they start their ski fitness classes in October quoting purepowder 
3. Barrecorre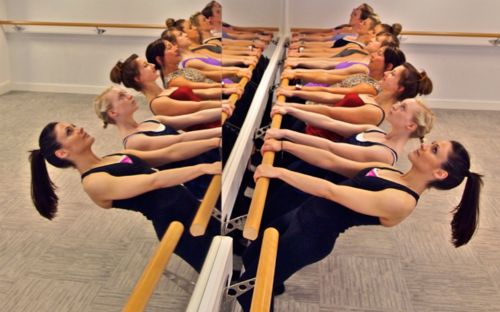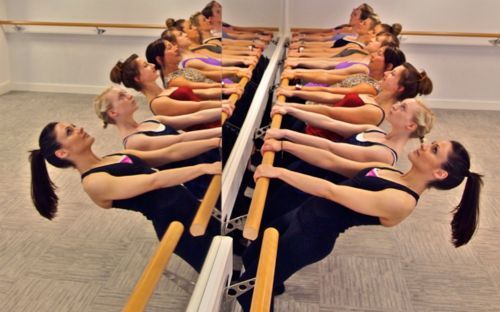 We all know core strength is hugely beneficial to staying injury-free on the slopes. This is where trainer to the stars, Niki Rein, realised the disciplines of ballet were a fast effective method to work the muscles for a full body programme. But you can put thoughts of ballet shoes away as Barrecorre uses the ballet barre, resistance training and weights to perform small movements, finding muscles you didn't even know existed. Having thought of ourselves as pretty fit, we were stunned by the muscles awakened from a Barrecorre class and sure this will improve your ski endurance for next Winter.
Barrecorre are offering Pure Powder blog readers a free trial class worth £28! Please note you must be a new client to Barrecorre to take advantage of this offer. Please contact Barrecorre on 0207 349 7500 and quote the pure powder ski blog
4. Absolute Pilates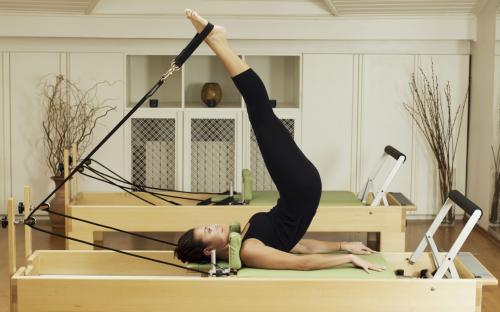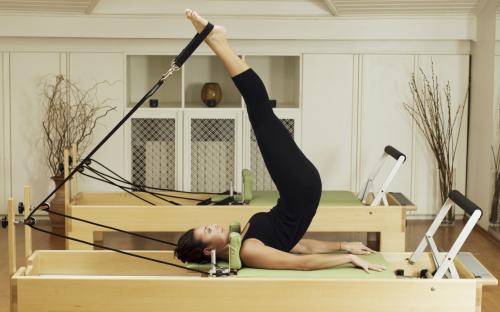 Pilates is famed for its dynamic strengthening workouts which is why it's a great tool for your overall fitness helping you develop your core strength, endurance and improving your posture and flexibility. As a fan of pilates reformer classes rather than the boring old, we found Absolute Pilates in Fulham to be the best of its kind with well qualified trainers on hand and helping assist with any injuries you may have. With only 8 spring-loaded reformer beds in the room, there is plenty of guidance and the use of weights, bands and magic circles keeps the interest levels piqued!
Pilates classes start from £24 for 1 hour. However, if you are new to Absolute Pilates you can register free for your first class quoting purepowder
If you have your exercise regime all figured out, then keep that running/cycling/swimming going. However, at least 8 weeks prior to your ski trip, you can start Pure Powder's ski fitness programme co-created with Craig McLean from the Putney Chiropractic Centre which are a series of stretch and strengthening exercises specifically designed to get skiers ready for the slopes. And with your fitness taken care of, it's worth spending some time thinking about the right ski equipment and skiwear too. Enjoy!
Please take advice from your doctor before embarking on any new exercise regime.