We've had a busy few weeks this November spreading the word of CMH heli skiing and meeting enthusiastic skiers from across the UK. With a few guests flying in from Ireland and Europe for the evening, it showed us how committed our guests are to stoking the fires of CMH! With the support of Ellis Brigham, Putney Chiropractic and Lawrence Price Fitness we were able to greet over 300 guests up and down the country. Now Pure Powder are taking a look back on the UK's only nationwide heli skiing tour and looking forward to doing it all over again in 2012:
Edinburgh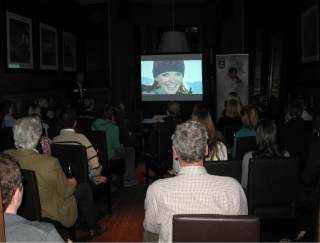 After a long (but picturesque) train journey from London, we arrived in Edinburgh to crisp Autumn sunshine. With ski hills on your doorstep and seemingly endless glorious weather, we're thinking of relocating ourselves! The evening was held in the stunning Bonham Hotel – a boutique Scottish townhouse helping us welcome 50+ guests to the event. Appetites were whet and trips discussed and we very much hope to revisit Edinburgh next year to visit all those keen skiers!
Bristol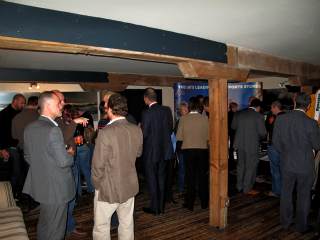 Flying into Bristol, our CMH guide Stefan (formerly an Architect student pre skiing!) appreciated the scenic view past the Clifton Suspension Bridge. Our Bristol evening was being held in Hotel du Vin which was the perfect location to welcome 60 keen skiers to find out more about CMH. Lawrence Price Fitness and The Jonathan Webb Clinic kindly gave all our guests two free personal training sessions and had been hard at work to deliver a ski fitness package for our South West contingent.
City of London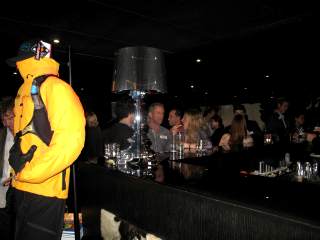 On a cold and drizzly night, we were delighted to welcome so many keen skiers to the City for our first (of two) London events. With over 70 guests registered, we had the whole Pure Powder team on hand to meet past and present CMH guests with tales to tell and had many new guests come along to see what we're all about. We were delighted to also welcome Putney Chiropractic to the evening who have been a strong support to Pure Powder and helped develop our upcoming fitness programme.
Central London
Our Central London evening has always been a successful event and this year proved no different. We were delighted to have over 110 people register for the event and met a variety of our guests on the evening including one who has skied over 3 million feet with CMH! We hosted the event once again at Firmdale's Charlotte Street hotel – one of our favourite locations with a wonderful 80-seater cinema room (just what we need to show off the Warren Miller images). Here's to doing it all over again next year!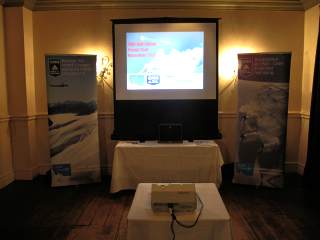 Birmingham
Our final evening was hosted at Hotel du Vin in Birmingham which was a great opportunity to finally meet our skiers from the Midlands! With the kind support of Midland Ski Club, we had a successful evening meeting past and potential guests and look forward to spreading the CMH word around the UK via our strong links in different parts of the country.
Many thanks to all our guests for spending the evening with us and sharing our passion of skiing and CMH. A huge thank you also to Ellis Brigham for their support and prize giveaways – many of you walked away with boot bags, caps, skiwear and one lucky guest from each event went into the grand prize draw for an Arc-teryx jacket. We can now announce the lucky winner is Joanna Moss who will take delivery of her £400 jacket next week!
Missed our events but want to find out more? Please contact us for availability in 2011/12 Season or to book a trip in 2013! We still have a final evening planned in November to talk about Awesome Alaska so please sign up here if this is of interest.